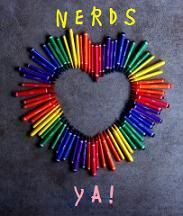 This is my second year judging for Nerds Heart YA, and this time I'm judging with Kristen of Bookworming the 21st Century. I must say that I really enjoyed the books I judged! Both of them were really good, but while I liked both only one was a clear winner (well, obviously). Continue reading below for my thoughts on both books and our decision on which book will move forward.
55. Toads and Diamonds by Heather Tomlinson
Publication: Henry Holt and Co. (March 30, 2010), Hardcover, 288pp / ISBN 9780805089684
Genre: YA Fantasy
Read: June 9, 2011
Source: Borrowed
Summary from Amazon:
Diribani has come to the village well to get water for her family's scant meal of curry and rice. She never expected to meet a goddess there. Yet she is granted a remarkable gift: Flowers and precious jewels drop from her lips whenever she speaks.

It seems only right to Tana that the goddess judged her kind, lovely stepsister worthy of such riches. And when she encounters the goddess, she is not surprised to find herself speaking snakes and toads as a reward.

Blessings and curses are never so clear as they might seem, however. Diribani's newfound wealth brings her a prince—and an attempt on her life. Tana is chased out of the village because the province's governor fears snakes, yet thousands are dying of a plague spread by rats. As the sisters' fates hang in the balance, each struggles to understand her gift. Will it bring her wisdom, good fortune, love . . . or death?
Review
Toads and Diamonds is set in a fictional version of historical India, with gods and people that sort of resemble the ones in our world, but not really. It's also a retelling of Charles Perrault's Les Fées, who you may recognize as the dude who popularized stories like Bluebeard, Cinderella, and Sleeping Beauty. Luckily, Toads and Diamonds does what The Goose Girl did for the original goose girl story: it makes it way better and way more interesting. It has character depth, and self-actualization, and character growth! Diribani and Tana are two of the strongest characters I've ever read about, and yet they were still vulnerable to dangers both inside and out. Also, it has romance! Yay!
The only downside to Toads and Diamonds is that I thought Diribani's troubles, when compared to Tana's, seem almost inconsequential. Tana has to deal with plague victims, near-death at least twice, and shoveling horse poop. Diribani has to deal with danger to her spiritual beliefs– and to her heart. Both are powerful stories, but I can't help but think that Tana had the upper hand in emotionally impacting the reader (i.e. me). Plague and death is just always going to affect me more than the push-pull of living in one culture while belonging to another, and so I sympathized with Tana and her snakes way more than Diribani and her flowers.
Plus, the villain was basically non-existent except for right at the end. In fact, I don't think the villain was even that important, for all that he kept throwing wrenches into things.
Still, despite what I saw as an imbalance, I really liked Toads and Diamonds. It's a fantastic fairy tale retelling and I definitely recommend it.
56. Finding Family by Tonya Bolden
Publication: Bloomsbury USA Children's Books (August 31, 2010), Hardcover, 192pp / ISBN 1599903180
Genre: MG Historical Fiction
Read: June 14, 2011
Source: Borrowed (special thanks to Kristen for letting me borrow her copy!)
Summary from Amazon:
Delana has never known her parents. Raised by her Aunt Tilley and a reclusive grandfather, Delana has led a sheltered existence, nurtured on her aunt's wild family histories. But when Aunt Tilley dies, Delana confronts her pent-up curiosities and embarks on a quest to unravel her aunt's fictions and draw out her mysterious grandfather. In searching for her true history, Delana finds herself, and a home in the one place she never thought to look. This moving fictional story is imagined from real antique photographs that author Tonya Bolden has collected. Bolden's well-researched historical details about 1905 Charleston, West Virginia lend authenticity, while spare, lyrical writing make this young girl's coming-of-age resonate.
Review
Finding Family an adorable and heartbreaking book. Delana's story is about growing up, and when you grow up sometimes you find out the truth about things you didn't even know there was a truth for. That can have devastating consequences, but luckily Delana is strong enough– and has a solid support structure in her family– that she isn't ruined forever. In fact, she gets stronger! Character growth, yay!
One of the best parts of Finding Family was the integration of actual antique photographs. It just makes the whole book seem more real, and like the people Delana talks about could have actually been people living back at the turn of the century. That gives it an edge that most YA/MG historical novels don't have.
---
Like I said, though I enjoyed both books, only one could move forward and I knew which one I wanted it to be. Luckily my judging partner agreed, and so we've decided that Toads and Diamonds by Heather Tomlinson will be moving forward!
Congrats to Toads and Diamonds, and here's hoping it does well in the next round!
Related Posts